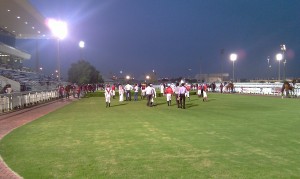 Dahor De Brugere and Mkeefa winner of IFAHR awards
28. Februar
Zwei "Stars" des internationalen Pferderennsports aus Katar wurden heute mit einem Sonderpreis des International Federation of Arabian Horse Racing Authorities (IFAHR) ausgezeichnet.
Dahor De Brugere, im Besitz von Sheikh Joaan Bin Hamad Al Thani, bekam den Preis für die höchste Bewertung über 3 Jahre. Mkeefa, im Rennstall von Sheikh Mohammed Bin Khalifa Al Thani, dem Berater des Emir, wurde zum besten reinrassigen Araberpferd der letzten 4 Jahre in allen Kategorien für 2012 gewählt.
Die Entscheidungen fielen bereits am 28. November 2012 während der 2-tägigen Beratungen des Aufsichtsrates in Ascot und in Auswertung der Ergebnisse von 65 Rennen in Europa und dem Mittleren Osten.
Die Auszeichnungen wurden anlässlich des "Emir Trophie and Sword Day" am 28. Februar im Qatar Race & Equestrian Club vorgenommen und überreicht. Der Präsident des IFAHR Sami Jassim Al Boenain gratulierte beiden Pferdebesitzern herzlich und lobte die Dominanz der Araberpferde aus Qatar.
Erste Nationale Show für reinrassige Araberpferde
21. Februar 2013
Am 05. und 06. April veranstaltet der Qatar Race & Equestrian Club die erste Nationale Show für reinrassige Araberpferde. Interessierte Pferdebesitzer können sich vom 05. bis 17. März anmelden.
Rennpferdeauktion im Qatar Race & Equestrian Club
20. Februar 2013
Am 22. Februar findet im Qatar Race & Equestrian Club (QREC) auf der Pferderennbahn in Doha eine Auktion für Rennpferde statt. Dazu sind alle Pferdeliebhaber, Besitzer von Rennpferden und potentielle Käufer herzlich eingeladen. Beginn ist am 22. Februar 15:00 Ortszeit an der Haupttribüne, wo alle Pferde im Führring präsentiert werden.