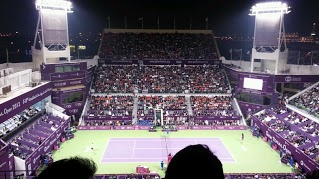 Qatar ExxonMobil Open 2013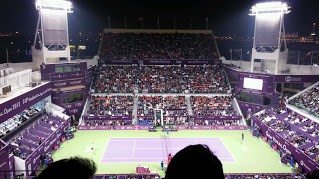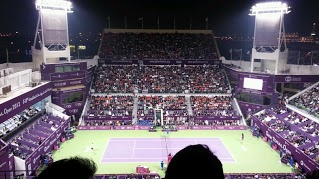 Zum 22. Mal fand über den Jahreswechsel 2013/14 die Qatar Open in der Hauptstadt Doha statt. Ab dem 30. Dezember 2013 wird im Rahmen der ATP World Tour 250 traditionell die Saison in dem Wüstenstaat im Persischen Golf eröffnet.
Gern kommt die Tennis-Elite der Herren über Silvester nach Katar, um sich Bestens auf das 2 Wochen später in Melborne auf gleichem Belag (Hartplatz) gespielte erste Grand-Slam Turnier des Jahres, den Australien Open, vorzubereiten.
Um diese Jahreszeit herrschen in Qatar ideale Temperaturen von ca. 22° Celsius im 6.911 Zuschauer fassenden Khalifa International Tennis and Squash Complex und lassen die Spieler zu erstklassigem Tennis auflaufen.
Angeführt von der Nr. 1 der Weltrangliste Rafael Nadal kämpfen um das höchste Preisgeld der Serie von knapp 1,2 Millionen US-$ auch Bei seiner 5. Turnierteilnahme in Doha festigte die Nr. 1 Rafael Nadal seine Spitzenposition mit seinem ersten Sieg bei den Qatar ExxonMobil Open 2014 im Finale am 04. Januar 2014 in 3 Sätzen von 6:1, 6:7 und 6:2 gegen Gael Monfils.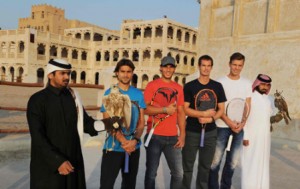 Im Doppel ließen die beiden Tschechen Tomas Berdych und Jan Hajek dem Östreicher Alexander Peya und Brasilianer Bruno Soares in 2 Sätzen keine Chance.
Aber auch die Damen machen im Rahmen der WTA Tour erneut in Doha halt. Bei der Qatar Total Open 2014 werden ab dem 10. Februar 56 gesetzte Spielerinnen, 32 Qualifikantinnen und 16 Doppel an den Start gehen.
Das Finale am 16. Februar wie auch alle anderen Spiele werden wie das Turnier der Männer im International Tennis and Squash Complex ausgetragen in unmittelbarer Nähe zur prachtvollen Corniche und der Diplomatic Area mit seiner architektonisch Skyline.
Gerade die um diese Jahreszeit im Gegensatz zu Europa sehr angenehmen Temperaturen und die tägliche Sonnengarantie sind es wert, hier mal ein Woche Sonne und Energie zu tanken. Neben dem Museum for Islamic Art und der Heritage Library sind auch die Shopping Mall´s "Villagio" oder das City Center Doha Garant für entspannte Stunden.
Mit Qatar Airways – einer der besten Airlines der Welt – ist man von München, Frankfurt und Berlin in 5 bis 6 Stunden Flug schon im "Urlaub".
Flüge, Hotel, Transfers, Eintrittskarten und Sightseeing touren buchen Sie bequem unter